Medical
China precision medical mold spare part supplier

Quantity : 1 Piece/Pi Price : estimated by custome
Packaging & Delivery
| | |
| --- | --- |
| Packaging Detail: | Standard export carton with palletized or as your request |
| Delivery Detail: | Normally within 7 days (according to customer's drawing ) |
Specifications
precision medical mold spare part
1.grinding/EDM precision within 0.001/0.002mm
2.13 years' experience
3. ISO9001: 2008,ISO14001: 2004
Product name

Precision medical mold spare part

Briefly Description

1. Machined part's material: SKD11,SKH51,NAK80, etc

2. Precision grinding less than 0.002mm.

3. Precision mould component with precise produce.

4. With 13 years machine parts processing experience .machine parts Manufacturer, Supplier, Factory, Exporter in china

Standard

Standard:

American Standard: ASTMB85-96, ASTMB85-98, ASTMB179-96, ASTMB597-98.
Japanese Standard: JISH2118: 2000, JISH5302: 2000.
German Standard: DIN 1725-86.
French Standard: NF THE A57-703-84.
European Standard: EN 1706: 1998.
Chinese Standard: GB/T15115-94, GB/T15114-94, HB5012-86.

NON-standard depend on your requirement

Supply capability

1000Pcs/week

Terms of transport

Express

Websites

WWW.GEMTE.NET

Our Products

1)production mode : according to drawings or samples to process

2)material: variously,such as copper, stainless steel, carbon steel, aluminum, plastic,rubber etc depend on your requirement

3)technique advantage : grinding parts with precision less than 0.002mm, precise EDM parts with precision less than 0.005mm

4)utilization scope :

series of Moulds

Mould for Sports Equipment Machining Parts

Mould for Phone Machining Parts

Mould for Stationery Machining Parts

Mould for Computer Accessories

Mould for Lighting Components

Mould for Custom Components And Etc

Mould for Machinery Parts

Mould for Furniture Accessories

Mould for Automotive & Engine Parts

Mould for household appliances parts

Mould for ·Kitchen & Bathroom Sanitary Fitting

Mould for Medical Equipment Parts

Mould for construction & Housing Parts

Mould for Electronic Equipment Housing And Accessories

Plastic injection mould

Silicon rubber mould

Die casting mould

Stamping mould

Blowing mould

series of service

product design

rapid prototype

Mould manufacturing

product manufacturing

finished products assembly

6)production equipment : all machinery used from import, with milling machines, CNC lathe, cylindrical grinders, deep hole drilling machine, surface grinders, EDM machine, CNC machine, wire cut machine,milling centre,laser cutting machine,griding machine,drilling machine,RHC heat treatment,chamfering machine,CNC wire cutting,traditional milling machine,quality control machine,speed walking machine, Digital control machining centre ETC

7)product accuracy : dimension tolerance +-0.001mm, axiality within 0.002mm,roundness within 0.0015mm, surface roughness within Ra0.025, straightness within 0.002

8)cooperation customer : China, Western, Japan, Southeast Asia

We export mold parts to Japan,USA,Germany,UK,France,Spain,Italy,Turkey,Czech,India,

Indonesia,Malaysia,Philippine,Thailand,Vietnam,Singapore,New Zealand,Australia,Mexico,Brizal,Sri Lanka,Canada,South Africa,South Korea,etc
Our products are widely used in precision plastic molds, metal stamping dies, die casting, and also involved in automotive, communications, medical, electronics and precision automation machinery and many other fields. Mainly in automotive connectors, medical connectors, computer connectors mold based products contain all kinds of high precision mold core, cavity, pen mold, complex inserts, non-standard Secretary extinguishers, thimble, precision thread inserts, flat tip, mold needle, punch needle, pull rod, filling the mouth, insert molding, precision mold parts etc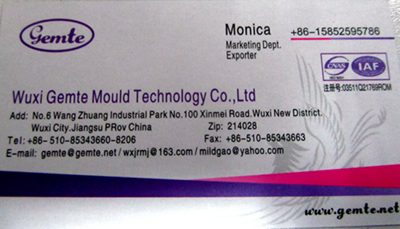 Location :
No.100 xinemi road, 214028 wuxi new district
,
Contact :
monica Gao
,
+86 510 85343660ext8206
Good deal: buying from seller
Visit our guide for a secure transaction! Under no circumstances Algomtl can be held responsible for the content of the ads published. Only the sellers and buyers responsability is involved in case of dispute.
We invite you to read our terms of use. You can also visit our
FAQ
section and see our information section on the risks associated with counterfeiting.
Monday, January 13, 2020
Price : 8 900,00 €
Un semi remorque d'articles de solderie Origine des articles : - Marchandises provenant de déstockage - Articles destinés aux soldeurs Description du semi-remorque : - Famille équipement de la cuisine : autocuiseur, cocote, casserole, moule, plat à four, poêle, sauteuse, essoreuse, spatule, fouet, presse purée, roulette à pizzas, cuillère à pâtes, louche, écumoire, moulin à légumes, tire-bouchon, râpe, moulin à poivre, gants de cuisine, minuteur, boite à pain, etc. - Famille...
63560 - Neuf Eglise
04 73 85 53 53
Saturday, June 22, 2019
Hi, This is CEO, Eric Chou from TAIWAN DING LI INT'L DEV. LTD, Located in Taichung City ,TAIWAN , We have a factory with 1500 Square meters ,we are specialized in the Amusement Indoor machine and Foosball tables , If you have purchase plans recently , hope to have a win-win Cooperation with you...
412 - Taichung City
+886424966229
Saturday, July 08, 2017
Imprimez de grands volumes de travaux couleur de qualité professionnelle, sur toute une gamme de formats de papier. Maintenez la productivité avec des outils de gestion intuitifs et faciles à utiliser. Imprimez facilement directement à partir d'ordinateurs portables, des smartphones ou tablettes...
60386 - Frankfurt am Main
+49 (69) 9 150 750 28
+49 (69) 9 150 750 14